UTCOMP-PRO developed and manufactured by REVELTRONICS is a multifunctional measurement device (all in one gauge with OLED display). There is possibility to connect external sensors such as: temperature sensors (e.g. for oil, engine, gearbox, intercooler etc.), pressure senders (e.g. for boost, oil and fuel pressure), wideband O2 controller for air fuel ratio (AFR), exhast gas gemperature (EGT) etc. Multi-channel readings and stock sensors are also supported. Customizable alert system and built-in data-logger extends device functionality. Furthermore it has also trip computer functionality with vehicle speed, distance and fuel consumption measurements, inspection (service) settings and much more. UTCOMP-3 is a simplified version of UTCOMP-PRO with similar functionality, but with smaller display (LCD or OLED), less analog inputs for sensors and without additional memory for data-logging. Both computers are equipped with USB interface so it can be configured in many ways via dedicated PC software.
Description

Features:


all in one gauge for:

oil temperature,

engine (coolant) temperature,

inside/outside temperature,

user temperature (x2) e.g. for gearbox, reducer, fuel, intercooler etc.

exhaust gas tempeture (EGT1 - EGT4 real time measurements, EGT5/EGT6 optionally)

air fuel ratio (AFR or Lambda - dual channel),

oil pressure,

boost (turbo pressure / vacuum)

fuel pressure,

and other - check examples on forum,

customizable alert system for temperatures, oil pressure, turbo pressure, EGT, AFR etc. (e.g. to high engine or oil temperatures, to low oil pressure, to high turbo pressure / overboost, to high EGT, out of range AFR etc.),

trip computer functions:

date and time,

vehicle speed (km/h or mph) and dinstance traveled (km or mil),

fuel consumption measurement (real-time and average: l/100km or MPG or km/l),

independent measurement of alternative fuel e.g. for cars with LPG system,

tachometer, trip, mileage, travel costs etc.

trip-meter for off-road (with normal / freeze / reverse modes),

acceleration and deceleration measurements,

service/inspection reminder (x8) - for distance, operating hours and date,

headlight reminder,

gear indicator,

voltmeter (battery voltage measurement),

a wide range of configuration and personalization by user, e.g. inputs for additional sensors, user configurable screens, alerts, inspections etc.

logging up to 10 vehicle parameters (data-logger) in PRO version - tutorial,

output control depends on temperature or vehicle speed (e.g. relay switch - tutorial) in PRO version

and much more...
In order to better undestanding of the device features we encourage you to download and test UTCOMP software and read UTCOMP manual. The instruction describes in detail all aspects of functionality, performance and installation of the device.
Software and manuals can be downloaded from our page (check "manuals" and "software" tabs above).
Benefits of using UTCOMP:


thanks to possibility to connect external sensors (even not factory assembled in the vehicle) you will have under control all important readings from sensors, such as: engine and oil temperatures, oil pressure, turbo pressure, air fuel ratio etc. UTCOMP has advanced alert system where you can configure warning thresholds and it will alert you when the limit has been reached - you do not need additional gauges, you will have all important readings on single display!

with embedded data-logger in UTCOMP-PRO you can record data from sensors for further analysis - you will exactly know about all important engine parameters,

with trip computer features driving a car will be more fun - you will learn how to make optimal use of power and torque of your vehicle, so you will drive more economically (and no less dynamically); you will not forget about oil & filters change, timing belt etc. - in UTCOMP you can configure your own inspections; you will not forget to turn on headlights (if required in your country during a day),

it's a lot of benefits of using UTCOMP - please refer to manual, videos, photos, user reviews on various forums and you will find out how much it can!
Software


Software can be used for configuration and personalization of the device - it's intuitive and simple. It's working on Windows XP, Vista, 7, 8 and 10. You can download software free of charge - go to "software" tab above and check this out!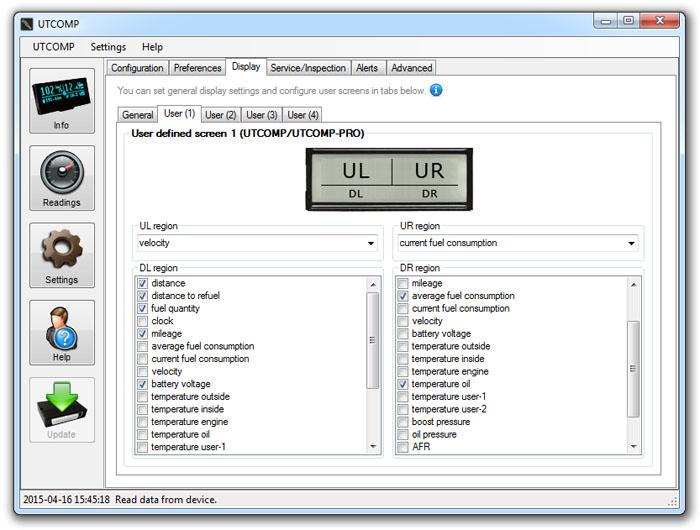 Technical parameters and dimensions:


Please go to "technical data" tab or download user manual.
Assembly and requirements:


UTCOMP can be installed in any place with +12V/24V power supply. Available functions depends on vehicle's engine and available sensors - please check pages 8-9 in short version of manual for functions and requirements.
UTCOMP-3 and UTCOMP-PRO:


One of the UTCOMP's advantage is modular structure. Display and module are connected using ribbon tape. UTCOMP module can be hidden under the dashboard while display can be assembled in front of the dashboard. You can choose different modules and diffrent displays. Main elements of UTCOMP KIT are:
UTCOMP-3 or UTCOMP-PRO control unit module,
LCD or OLED display,
accessories (ribbon tape for display, utcomp molex connector, keyboard, buzzer, sensors etc.)
Displays for UTCOMP


UTCOMP is compatible with 122x32 graphic display. There are two types of displays available in our offer: LCD 2,5" and OLED 2,3"
LCD 2,5"




OLED 2,3"



Displays for UTCOMP-PRO


UTCOMP-PRO is compatible with 256x64 graphic display. There are four colours of 3,2" OLED displays available in our offer.
OLED 3,2"





interested to preview real size? Please check video on youtube - please adjust your browser window size to make background grid to fit 1x1 cm in real size so you will see real dimensions.
UTCOMP Android
There is also available android app, which allows you to connect UTCOMP-3/UTCOMP-PRO via USB to android multimedia center in vehicle (or smartphone / tablet). It can be used as second display with additional gauges. More information about UTCOMP Android on forum.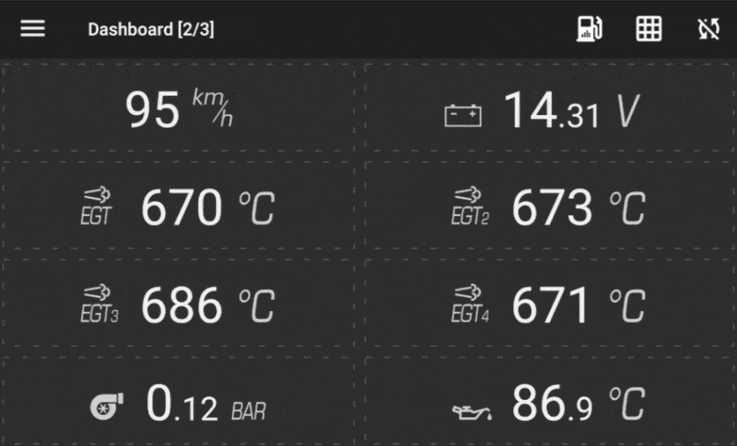 At the top of the description you will find additional tabs:
In "gallery" tab you will find photos of UTCOMP, accessories and examples of assembly in vehicles.
In "video" tab you will find demo movies of UTCOMP functionality.