EGT-K is a precision thermocouple amplifier providing high accuracy temperature measurement in range of 0-1250°C. It converts thermocouple type-k non-linear milivolts signal to 0-5V linear (4mV/°C) analog output so it's compatible with most industrial applications and data-loggers. It has built-in cold junction compensation so any length wires can be used. EGT-K is available in single, dual or quad channel variant.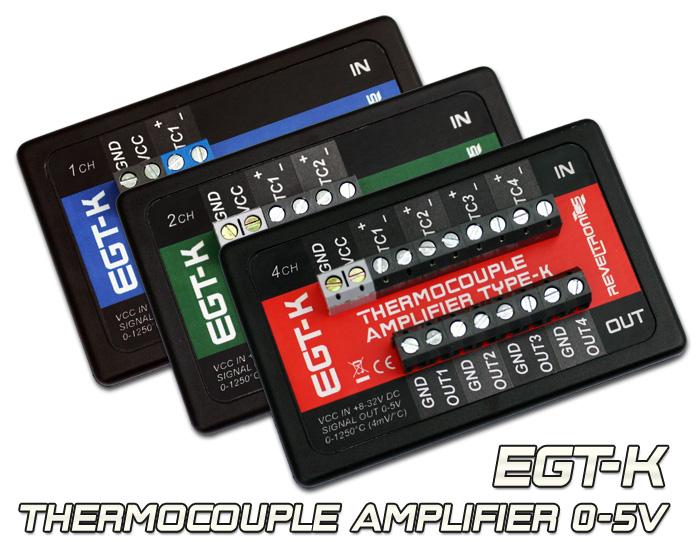 Example application:
automotive gauges and data-loggers - as a conditioner for exhaust temperature (EGT) measurements, coolant, brakes etc. (working with REVELTRONICS UTCOMP & UTCOMP-PRO, AEM EMS, GReddy e-MANAGE, Motec, Stack, ACR systems, HRC etc.)

industrial applications (which require 0-5V linear signal on input),
oven temperature measurements and control,
hobbyist electronics (as a thermocouple signal converter from milivolts to 0-5V linear, e.g. for Arduino projects, as a ADC input signal for microcontrollers etc.)

Technical data:
temperature range: 0-1250°C (32-2282°F),
compatible thermocouples: type "K" probe,
built-in cold junction compensation,
output signal: analog 0-5V, 4mV/°C (0V = 0°C, 5V = 1250°C),
accuracy (gain error): +/- 1.5% (EGT-K is based on AD8495 precision thermocouple amplifier with cold-junction compensation),
ADC input resistance: >100kOhm (recommended >1MEG)
power supply: 8-32V DC for full range of measurement 0-1250°C (lower voltage will limit maximum range),
dimensions: 85mm x 54mm x 6mm (without terminal blocks)
EGT-K datasheet
Please note: thermocouple type-K should be connected directly to EGT-K terminals. If you would like to use extension cable for thermocouple than it should be from the same alloy's material as thermocouple. Using any other alloy will cause measurement error on instruments reading.
Additional information:

Please feel free to contact us if you have any questions. We can modify our product for your needs (e.g. more channels, type-J instead of type-K, different enclosure, IP65 standard etc.)
Reviews:
EGT-K [1-CH] Reviews
EGT-K Single Channel Reviews